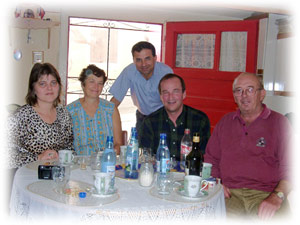 Love of country brought Jeff Spence to Romania.
Jeff, like a lot of other people felt a rush of patriotism after the terrorist attacks on the World Trade Centers, so he searched for an outlet.
Born and raised near Minneapolis, in Vernon Center, Jeff has developed a strong agricultural resume. For starters, he grew up on a farm managed by his father and mother, Stan and Grace. Then he took a job out of high school working for a neighboring farmer. In 1974, when the farmer lost an arm in an accident, Jeff took over management of part of the farm business.
A dream of going to law school was quietly shelved. Jeff stayed on to help the farmer for another year and then moved on to managing an agronomy plant. He began moving up in that company, too, the college dream fading in favor of a career. From 1981 until 2003, Jeff managed operations for Cenex Harvest States and some of their affiliated coops in Minnesota, North Dakota and Montana. He became "a turn-around specialist" helping return operations to profitability, managing some of the largest coops in the upper Midwest.
After the attacks on New York, he echoed John Kennedy's line about "ask what you can do for your country." He joined the Peace Corps in 2003, and was trained for service in East Europe. He was in Romania for training in June 2003 and then sent to Vurpar.
In a way, he is a pioneer for the Peace Corps. They have not developed their agricultural assistance program very much and Jeff's strong "ag" credentials mean he will be able to move the program along considerable, to the great benefit of the people of Vurpar, a virtual diamond in the rough, for a guy with Jeff's training and experience.